Here's a fact you have to write down to believe: Over the past 10 years, during which the world has adopted smartphones and social media, sales of fountain pens have risen.
Retail sales, in particular, have grown consistently. In 2016 they were up 2.1 percent from the year before, making fountain pens a $1 billion market, according to a report by Euromonitor International. To compare, the overall market for personal luxury goods—watches, handbags, cars—was stagnant over the same period, suggesting that a good pen is a better investment than the bespoke suit in which it's stowed.
These forces are even more pronounced in the Japanese market, where a study by Yano Research Institute Ltd. finds that fountain pen sales grew a remarkable 19.1 percent from 2014 to 2015, a leap attributed in part to an increased number of foreign buyers purchasing high-end Japanese products. In the Digital Age, it seems, the written word is the ultimate luxury.
The Nakaya Fountain Pen Co., in Tokyo, was one of the first pen makers to realize this, doubling down on individual craftsmanship even as the industry as a whole began trending toward mass production. What seemed like folly 20 years ago is starting to look more and more like smart business.
Nakaya is the brainchild of Toshiya Nakata, grandson of Platinum Pen Co. founder Shunichi Nakata. Toshiya's father, Toshihiro, was president of Platinum in the mid-1990s when several of its most experienced craftsmen announced their retirement. For Toshiya, who'd left his banking job to learn the family business at the age of 29, the news came at a precarious time: The looming threat of email had fountain pen manufacturers worried that their product was doomed to obsolescence—or at least to a shift down-market.
Fearing that the workers' departure represented an irreplaceable loss of skills, the youngest Nakata formed Nakaya, a line that would be a wholly owned subsidiary of Platinum but work independently. "There is a limit to the mass-produced fountain pen business," says Nakata, a lean man in rimless glasses with a brusque, matter-of-fact manner, when we meet in Nakaya's tiny but bustling headquarters in Taito City, Tokyo.
The retirees had occasionally been called upon to repair and adjust older pens, but that wasn't enough for Nakata. "I thought, Why don't we make some fountain pens?" In 1999 he signed up the pensioners to return to their familiar positions. Kohsuke Matsubara, a lathe master, went back to turning pen barrels from brownish-gray ebonite, a hard rubber material. (Matsubara still turns many of the Nakaya barrels himself.) Kazuo Maruyama, a metal-press specialist, fabricated nibs and pocket clips. Sadao Watanabe hand-adjusted all of the early Nakaya pens. In 2003 designer Shinichi Yoshida was hired away from Platinum to create models for the Nakaya line.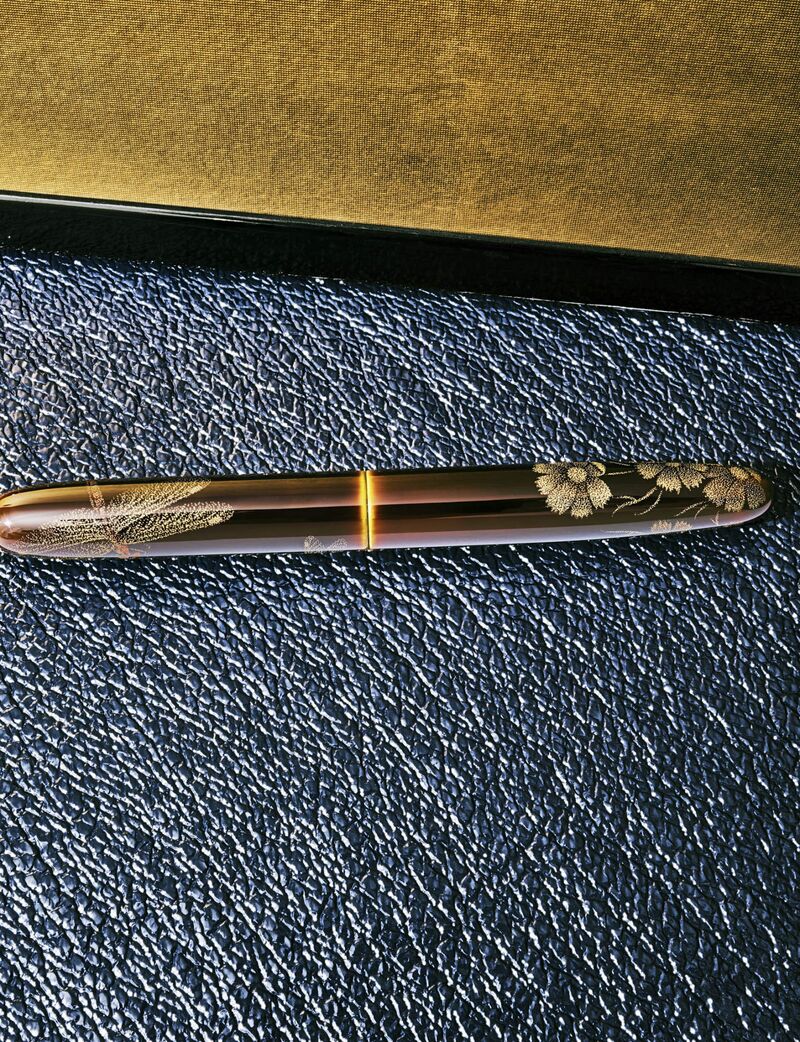 Photographer: Keirnan Monaghan for Bloomberg Businessweek; Prop stylist: Theo Vamvounakis
According to Nakata, as much as 75 percent of its sales come from outside Japan—even though the company has no presence on the trade show circuit, not even at the annual Collectible Fountain Pen Supershow in Washington, billed as the "largest pen event in the world." Nor will it be attending the London Writing Equipment Show in October, one of the biggest gatherings of its kind in Europe.
Instead, news of Nakaya spreads mainly through word-of-mouth on message boards such as Fountain Pen Geeks and on blogs, where the pens are described as "smooth," "glossy," "glowing," and "poetic." The only U.S. distributor is the online shop Nibs.com, which always has some items in stock for immediate purchase and can make minor adjustments on the fly. A few used models can be found on EBay, as well.
The ideal way to experience a Nakaya, though, is to hold it and feel it in your hand. The best way to test the pens is at one of the many impressive fountain pen emporiums in Tokyo: the vast Maruzen bookstore, a few blocks from the Imperial Palace; the airy rooms of stationery superstore Itoya, hidden among Ginza's luxury boutiques; or the well-stocked specialist shop Kingdom Note in bustling Shinjuku.
Cruising their display cabinets can make a visitor feel as if she's seeing double, or perhaps even octuple. The pens from Japan's three big manufacturers—Pilot, Platinum, and Sailor—tend to look awfully similar, and after a while, the rows of dark, somber objects with metal clips and center bands can start to run together.
But even a novice can identify products from Nakaya. The first clue is the color palette, which explodes in reds, greens, pinks, ochers, cornflower blues, even bright oranges, all so shiny the pens almost appear to be underwater.
Some feature small, gold-colored pocket clips, but most are unadorned—no branding, no hardware, just cylinders of glistening lacquer. They're the sort of sparkly item tailor-made for the Instagram era, but good luck getting the pens' biggest fans to define their exact appeal.
This Article was curated from Bloomberg.com.  The full article can be found at https://www.bloomberg.com/news/features/2017-08-30/how-nakaya-pens-anticipated-the-writing-tool-renaissance